08/11/2020 10:00 AM Central
Annie Nakasato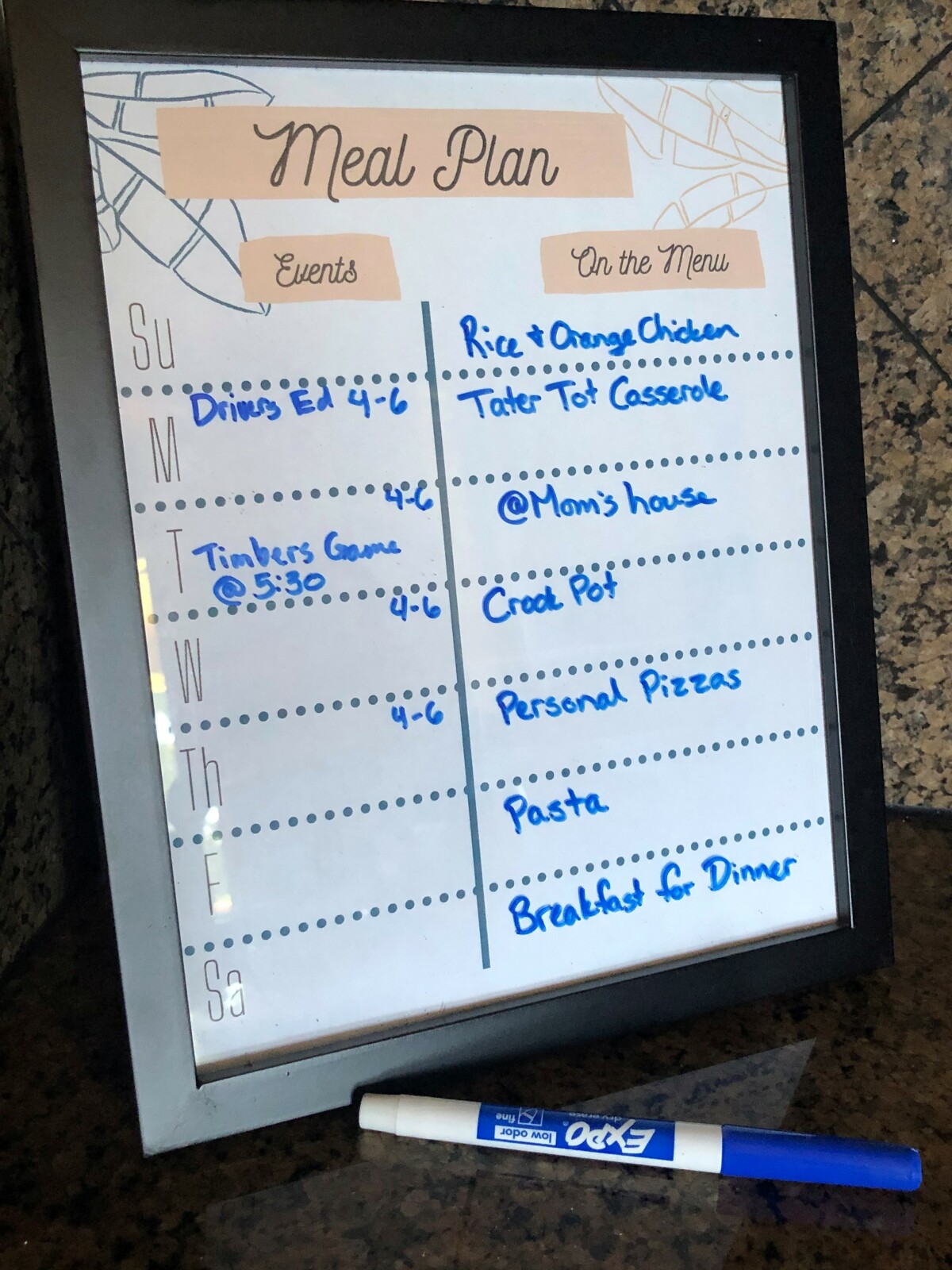 We used to have the daily struggle of, "what do you want for dinner?" Then, "I don't know, what do you want to do?" Back and forth we would go. When we finally came to a decision, using what we had on hand, we were both too exhausted to make it happen. Or, we would decide what we really wanted included ingredients that were still at the store. Half the time, we ended up going through the drive through. So much frustration! Then, there were the days that the kids were asking incessantly what's for dinner because they didn't know mom's secret menu plan. I got tired of them asking and they got tired of never knowing.
I decided long ago that for the sake of my family's finances and my sanity, I needed to meal plan. Sure, you can get by without it, but this life is too important to just "get by".
Finally, I created a tool that changed all of that frustration!
Now, to be clear, this tool has gone through many improvements over the years. I can tell you that when I use it, my family is happier, at least in terms of regular feedings. For some reason they expect dinner in some form every single night! Go figure!
Here's what I do…
Check the grocery ads to see what is on sale this week. (That's where the money saving comes into play!) This allows you to build a menu based on sale items.


Go to the Farmer's Market to get your freshest ingredients based on what is available that week and use that to help form some of your menu as well.

Check the family calendar and fill in your events for the week. I know that days with practices meant that we needed something quick that could be prepped ahead of time.

Plan in some fun. Maybe that means you do Taco Tuesdays or Fend For Yourselves Fridays depending on the ages of your kids. Breakfast for Dinner is always popular at my house.

It's ok to plan a meal eating out, if that works for your family. The point is that you can't plan your budget for all kinds of spontaneous trips to a restaurant. I know that even on the busiest of days, if I had a plan for dinner, I was a lot less likely to give in to the drive through. When we had late football games, we would plan on a snack before the game and we would hit the drive through afterwards. It was part of the plan, so there was no shame in that.

Be flexible! As things come up in the week, feel free to swap things around if they fit better for you. I know there were days that I had planned for a crock pot meal, but the morning got crazy and I couldn't get things started before work. That was okay because I just swapped it with the next day's meal. Easy peasy!

Let the kids get involved. Ask them for their favorite meals to plug into your week. We would plan for a balance of their favorites and the adult favorites so everyone can be happy at least some of the time. I mean, we are realists over here!
One of the fun things I did was start posting the dinner menu for the week on the side of the fridge. I printed out a simple planning sheet, laminated it and wrote with a dry erase marker each week. By doing this, my kids, and even my husband, stopped asking all the time what was for dinner. They checked the menu.
This did a couple of things. It set the expectation for dinner. There was no need to roll their teenage eyes at me when I told them what the planned dinner entailed. They could, and surely did, roll their eyes when I wasn't present. I am pretty sure that the menu informed their choice of snack when they got home from school. There were times that they had a heartier snack when the meal was not a favorite. This works for me because I knew that they were getting fed.
I also found that more often than not, my husband would take a more proactive role in the kitchen. He would check the menu plan and make sure that the proper meat was defrosting. Some days, I would even come home to find that the meat was already browned for that night's dinner, eliminating a step for me.
One of my favorite things is that by declaring what was for dinner ahead of time, I didn't have to think when I got home after a long day. I could just take action and make dinner. Sometimes thinking is hard at the end of the day!
My current version of my menu plan is my favorite of all. I created a beautiful template that allows me to notate any events that are happening for the family because that informs many of the menu choices. I can then write in the menu plan for each day. Now, I have trimmed the page and put it in an inexpensive 8" X 10" picture frame. I use my dry erase marker and can easily wipe the glass off each week. It is pretty and makes my heart happy! I love that it is easy to swap out for different colors if I want for a different season or if I change my decor.
You, lucky reader of my blog, can get this fun little planning sheet in all its colors for free because I believe that everyone deserves to have an easy way to plan your week.
Click here for immediate access to my meal planner.
Want to subscribe to my blog so you don't miss a thing?
Click here
and I'll shoot you an email whenever a new blog post lands.
Disclosure: This post may contain affiliate links. That means I may make a small commission from any purchases using the link at NO cost to you. All opinions are always completely my own.
Want to subscribe to my blog so you don't miss a thing? Click here and I'll shoot you an email whenever a new blog post lands.