Dec 8, 2020 06:08 PM Central
Annie Nakasato
I love advent calendars!
When I was little, we used to have a felt tree with little buttons on it. Every day leading up to Christmas we would add an adorable little felt ornament to one of the buttons on the tree. There were angels, and baubles and toy soldiers and bells and more. I am pretty sure it was handsewn down to the sequin by some lovely women in our church when I was little. It was amazing! My brothers and I would each take turns putting up an ornament. I love the feeling of anticipation in the waiting that leads up to Christmas. That feeling of wonder is something that sunk deep into my soul for this time of the year.
When my girls were little, I found a tree with magnetic ornaments that worked in a similar fashion. It had a star at the top that would play a little song when you pressed it. Until we wore it out, of course. (Then it sounded like some sick animal. Ooops!) They loved that advent calendar. We kept using it for many years, even when we lost one of the ornaments.
When we moved, that advent calendar didn't make the move with us. It went on to bless another family. So here we are in a new house, and I decided to fashion my own.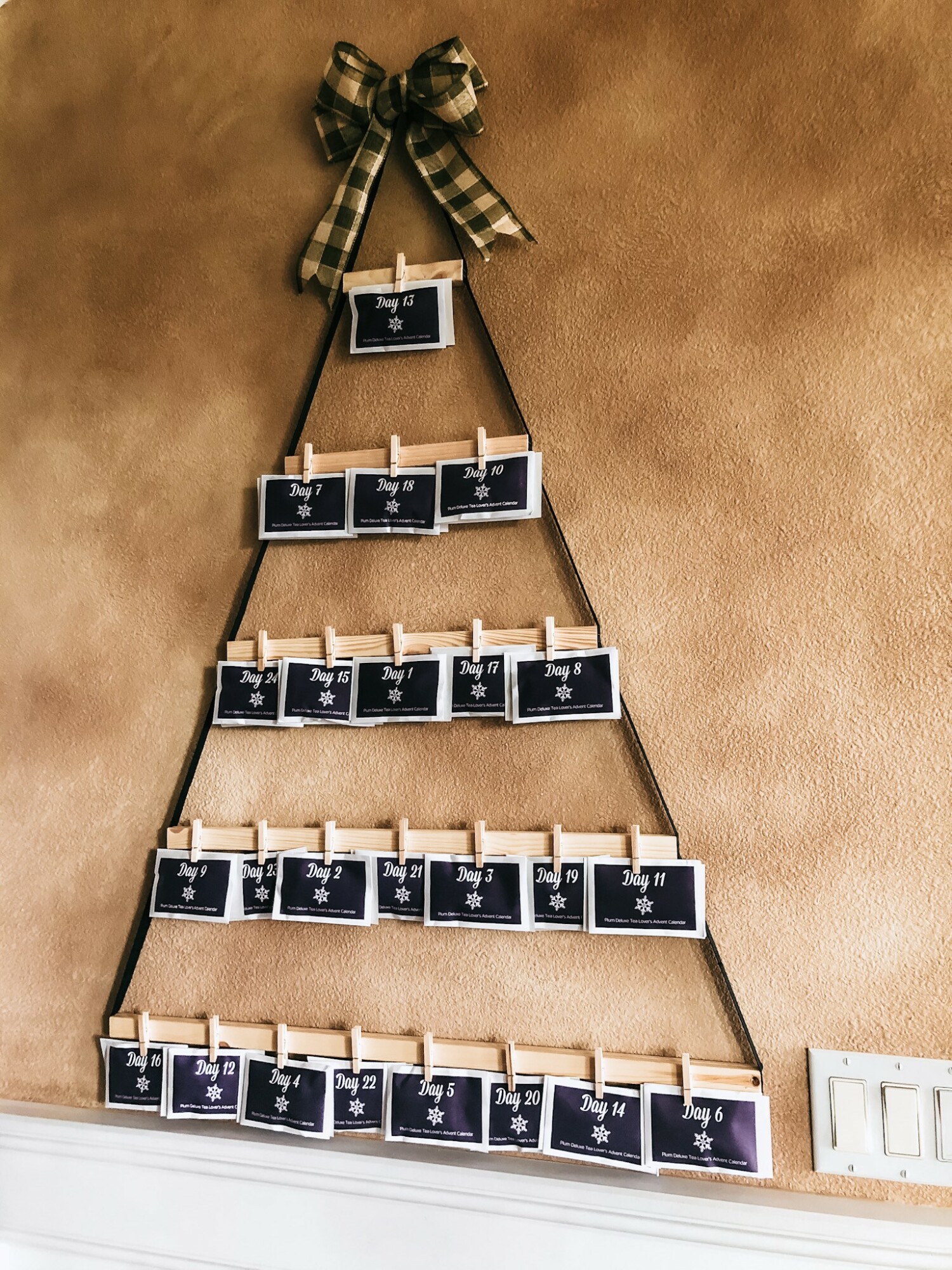 I Had a Couple of Requirements
No food. ( I know that the little milk chocolate candy ones are everywhere, but dietary restrictions make that not so much fun around here.)

I want to be able to add something every day.

I wanted to include some scripture cards I found.

I also knew that I was getting a set of advent tea envelopes so it would be a bonus to include them.
Here's what I did:
I started collecting little ornaments when I saw something cute in the stores as they were just setting out their holiday wares. I spotted the perfect wooden tree in an IKEA ad that could house all of my craziness. (Grab it here!) I got some little wooden clothespins and hot glued them on the rails. Perhaps the hardest part was deciding which spots to hang each of the ornaments. Some of them fit what I was going for more than others. I hung the whole thing from a cabinet pull in the living room for days with ornaments hanging on it….in October. Every once in a while, I would swap some ornaments around until I found the perfect balance.
Then, the tea envelopes arrived. They have a purple ink print on them which matches the brand, so I wasn't sure how I would like them facing out when I have no other purple holiday decor. I feel like this year the purple is deeper, more regal looking so I'm going with it. If I decided that it was too much, I was planning on turning them around and writing the numbers on the back. I'm flexible that way!
I had to decide which numbers to put where. I could have put them in order or reverse order, but I'm kind of a rebel. I went with a haphazard random assortment. Well, not totally random. I was trying to think ahead to what the tree would look like as it filled out. I wanted to build in some higher ones and lower ones and fairly even left to right as the month goes on.
With the numbers decided, I tucked the ornaments into lunch sacks with matching numbers. All of those are in a basket ready to grab each morning.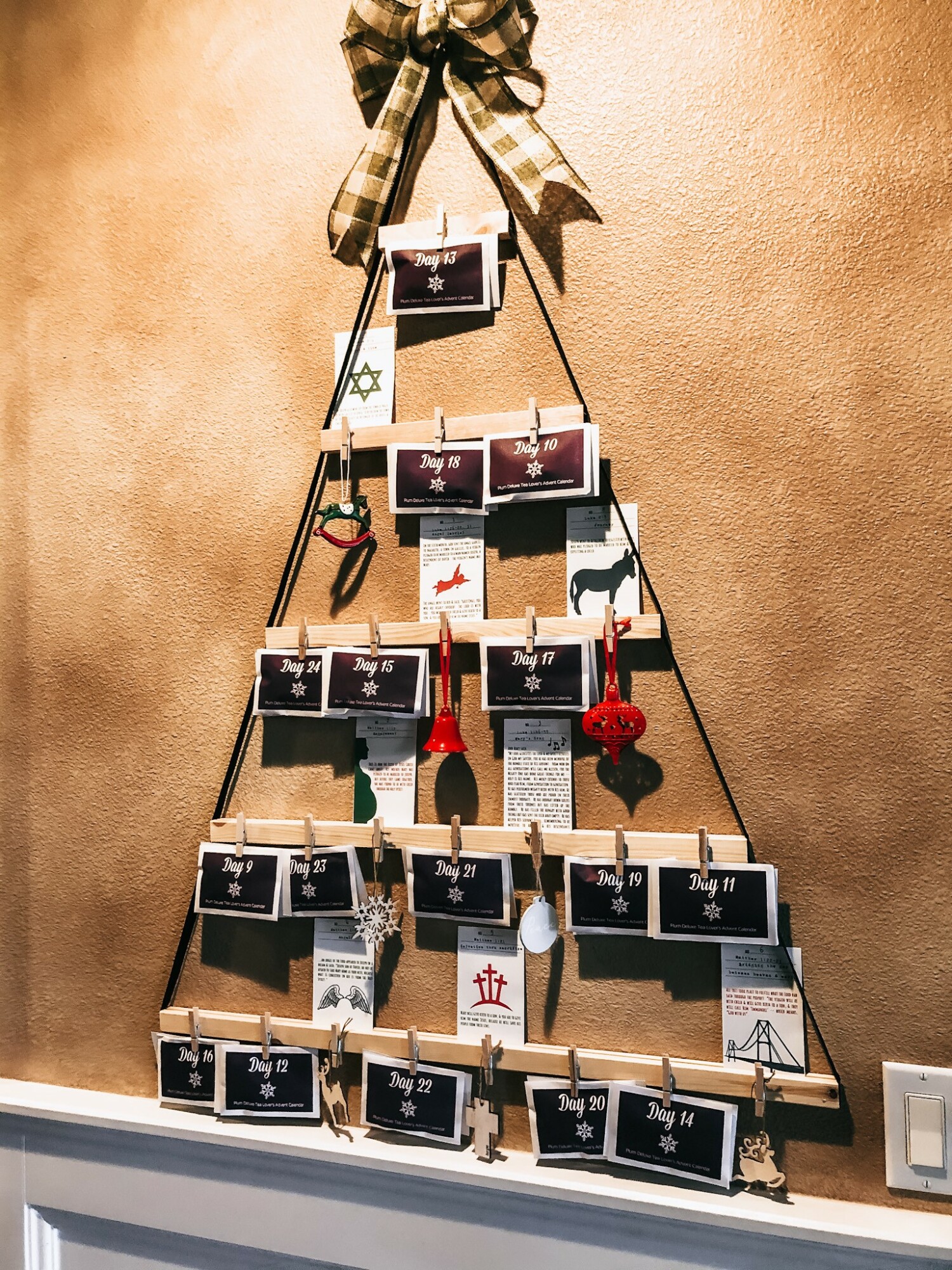 My Morning Ritual is...
Hang the new ornament.

Open the tea envelope to see what I'm having today. (I get my tea here.)

Brew the tea.

Read the scripture card and place back on the tree. (Here's the one I'm using.)

Drink the tea while I read my longer advent devotional. (Over here.)

Check out my Jacquie Lawson Advent Calendar on the computer to see what new part of the village is added today. (Find yours here!)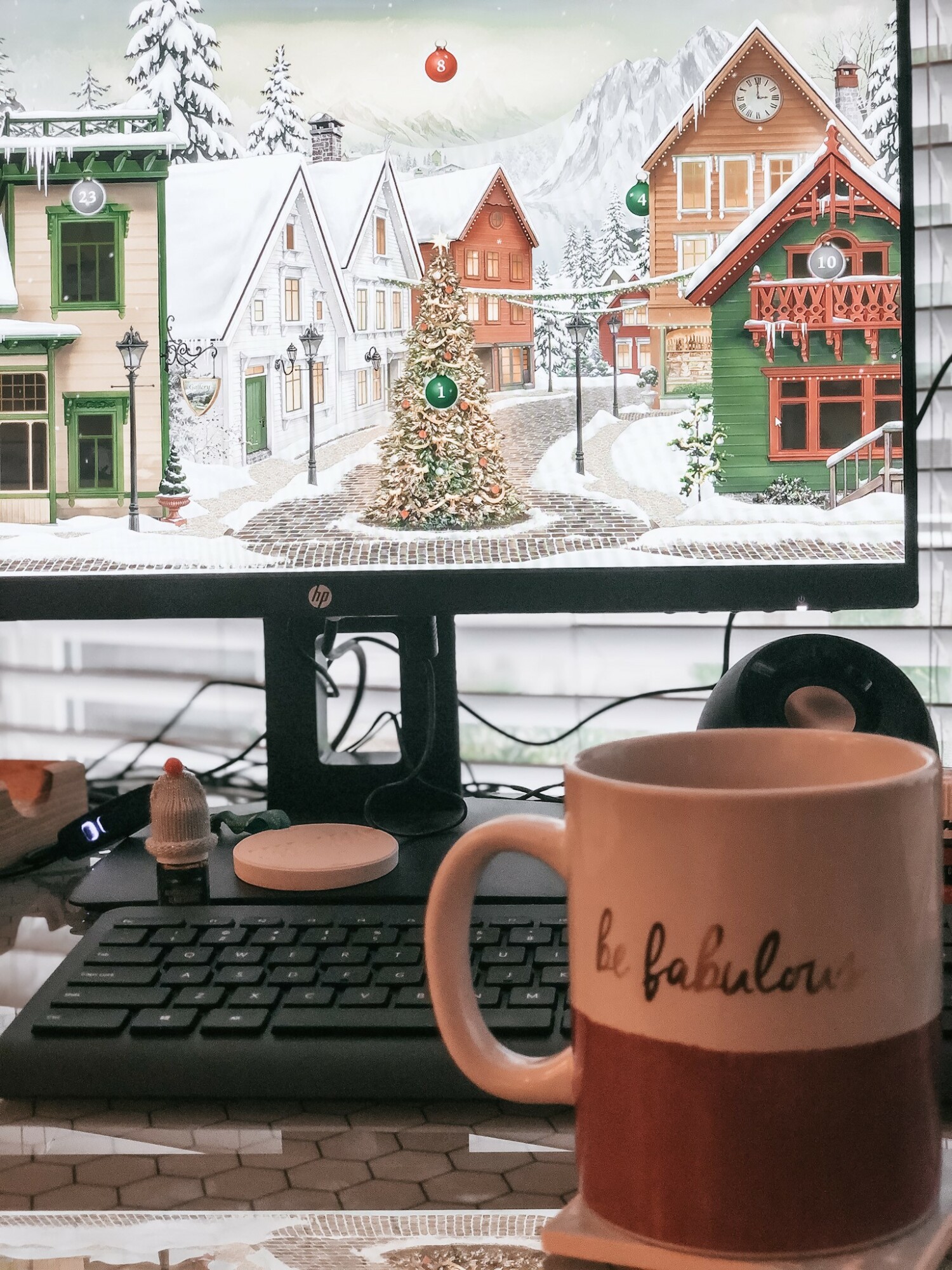 That ritual brings me joy!
What is bringing you joy this season?
Do you have a favorite advent calendar that you use?
Tell me in the comments.
Disclosure: This post may contain affiliate links. That means I may make a small commission from any purchases using the link at NO cost to you. All opinions are always completely my own.
Want to subscribe to my blog so you don't miss a thing? Click here and I'll shoot you an email whenever a new blog post lands.