Dec 1, 2020 06:22 PM Central
Annie Nakasato
If you have been around here for any length of time, you know that I love to plan out my meals for the week. It helps keep me on track, out of the drive through line and it saves my sanity. I wrote a post all about it here. However, I am a real person and there are times that we get to thinking about dinner and I realize that I need to go to the store, but that is just not happening. I have a foolproof meal that I gravitate towards in just that situation...fried rice.
I am not known as a chef. I am a mom trying her best to feed her family over here. If I tell you that I have a recipe that I make over and over and I am able to improvise with, you know it is legit.
I have made this so many times, both planned and on the fly. I love that I can mix it up and use leftover proteins and veggies that I have on hand. I can also go simple with it and use what I've got. It works for the meat eaters in my life as well as for my daughter who is vegan. If I'm adding meat, I either toss it with my individual bowl or I pull out her portion first before I mix it all together. I don't even measure anymore. I just add a little of this and a little of that and taste and adjust as I go.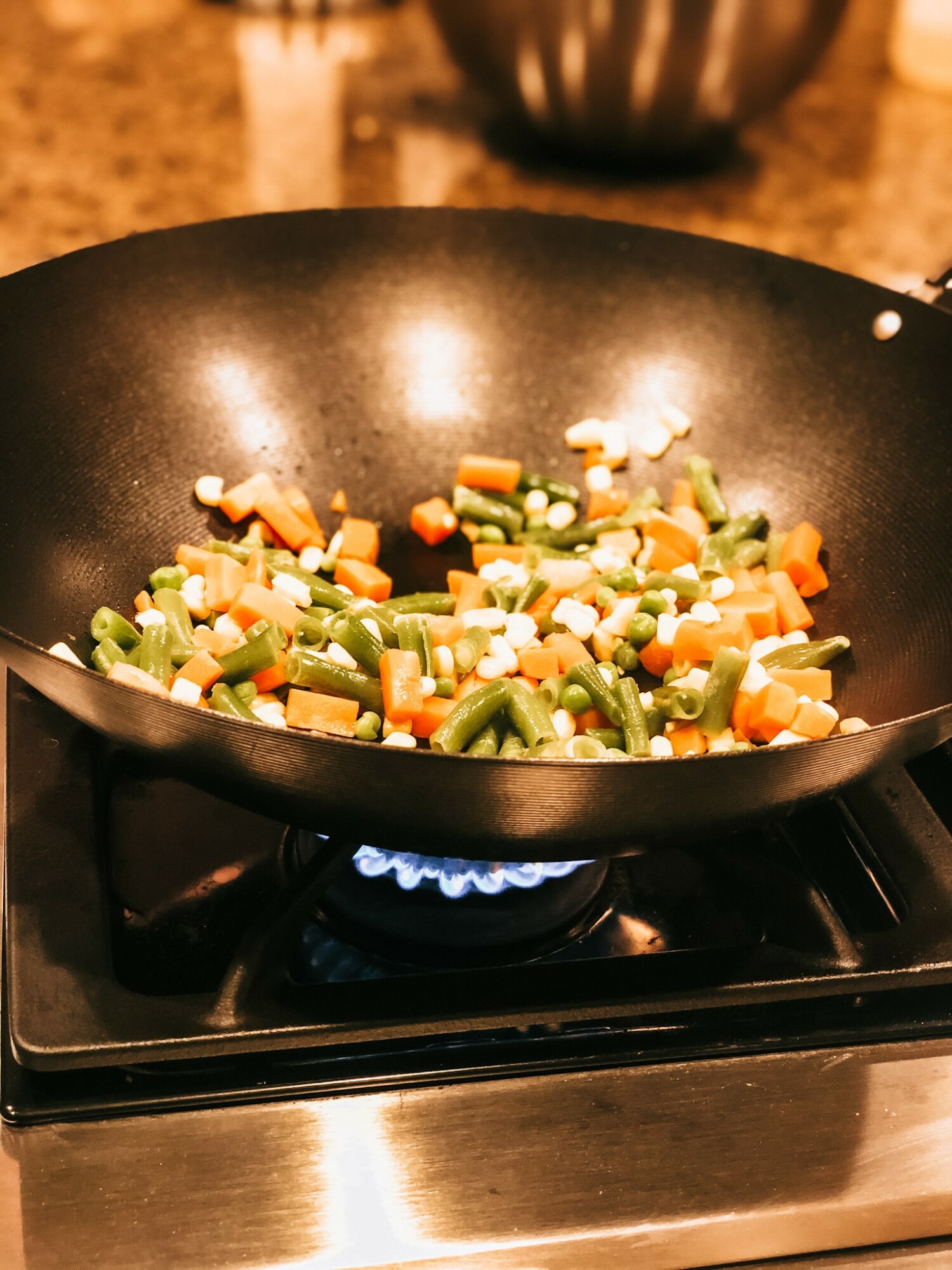 How easy is this?
Whenever I decide to make fried rice, I start my rice going in the rice cooker, even if it is hours ahead. I actually prefer to use rice that is cooled off by the time I'm cooking with it. It seems to absorb the flavors better and it doesn't stick together quite as much.
When I'm ready to cook, I put about 2 teaspoons of sesame oil into my wok pan and begin heating on medium. If you don't have a wok pan, just use a larger frying pan. You want room to stir without losing ingredients off the sides. I add about a half of an onion, diced, and saute until it is starting to get translucent. You can adjust the onion amount to suit your family with more or less. There are times, I don't even use onion. I just sub about a ¼ tsp of onion powder when I add the seasoning later on.
Next, I pour the frozen veggies right in the pan. If you are adding fresh veggies too, add them at this time. Saute those, stirring occasionally, until they are cooked through. While they are cooking, measure out about 4 cups of cooked rice. Add your desired protein to the pan so it can be brought up to temperature before adding the rice.
When the veggies and meat is nice and hot, add the rice to your pan. Also pour in your low sodium soy sauce, garlic powder and pepper. Mix completely and let cook together for about 5 minutes. If you are adding a scrambled egg, you can move your mixture to the side before dropping in an egg at the bottom of your wok pan. The heat of the pan should cook it up quickly. When the egg is cooked, mix it throughout your fried rice. (If you are adding the egg separately, cook it up in another pan while the mixture cooks.)
Taste your mixture and add more soy sauce, garlic powder, onion powder or pepper as needed to meet the tastes of your family.
Recipe Notes:
My favorite way to make fried rice is to plan it for the night after I will be cooking up some protein. For this week, I have grilled chicken planned one night and the next night, we are doing fried rice. That way, I can make sure we have some extra chicken cooked, and ready to dice into my rice. I've done the same with turkey and pork. It's a fantastic way to use up some leftovers.
I generally use some frozen mixed veggies that are just a staple in our freezer. You pick your favorite and that makes the best fried rice. Even still, I will add in any other fresh veggies we need to use up soon.
When it comes to the soy sauce for this recipe, I will use low sodium or coconut aminos to try and control a bit of the sodium in our diets. I've used the real deal when I needed to, but it's better with less sodium.
Some people like a little scrambled egg in their fried rice. Others, not so much. I love it, but my husband does not. You can choose to leave it out, or make it on the side to mix into your individual portions.
Fried Rice
Ingredients
4 cups cooked rice

2 tsp sesame oil

½ onion diced

1 package of frozen mixed veggies

Additional fresh veggies as desired

1 cup diced cooked chicken/pork/etc. (if desired)

⅓ cup low sodium soy sauce or coconut aminos

½ tsp garlic powder

¼ tsp onion powder (if not using diced onion)

Freshly ground pepper to taste

2 eggs (if desired)
Instructions
Cook rice and let cool.

Saute diced onion in the sesame oil until beginning to be translucent.

Add veggies to pan and stir occasionally until heated through.

Add meat if desired and heat through.

Add the rice to your pan along with the soy sauce and seasonings.

Mix completely and cook for another 5 minutes.

Scramble egg to add to the mixture if desired.

Serve up hot!
Disclosure: This post may contain affiliate links. That means I may make a small commission from any purchases using the link at NO cost to you. All opinions are always completely my own.
Want to subscribe to my blog so you don't miss a thing? Click here and I'll shoot you an email whenever a new blog post lands.